Welcome to Kirktonholme Primary School's website. Kirktonholme Primary School is situated in the West Mains area of East Kilbride, South Lanarkshire, Scotland. It serves the communities of West Mains and Stewartfield.
The Primary was opened in 1960. In October 2009, the school moved into its new building, still on the original site. Here the high standards of teaching and learning continue with modern and purposeful facilities and ICT infrastructure. We strive to make learning fun, within a safe environment, where children are happy and actively engaged.
Our school vision is:
Learning is the HEART of Kirktonholme: Happiness, Excellence, Achievement, Respect and Teamwork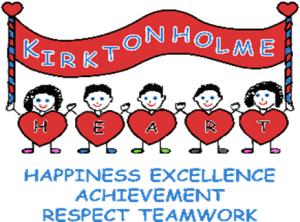 Designed by Lily and Declan Perrie.
Our website will be regularly updated. If you have any suggestions for the website, please email theict@kirktonholme-pri.s-lanark.sch.uk.